Easy to use and with low costs, the curtain coater is suitable for coating all plane surfaces, such as wood panels, metal, glass, board, rubber or leather. The machine is suitable for spreading any kind of solvent basis and water basis paints.
Spreading amount with every head varies from about 40 to 500 gr/m2.
Machine is composed by:
Transport bench with PVC belts.
Extractable trolley group(s) complete with head(s) and stainless steel recovery channel.
.
Double baffle tank(s) complete with:

gear pump group VK/1 + ex-d motor + variator
double filter in stainless steel, with interchangeable cartridge and pressure manometer
bubble-breaker sheet-metal
heating and/or cooling system
| | |
| --- | --- |
| Useful width | mm 1300 |
| Conveyor motor | Kw 1,5 |
| Pump motor | Kw 0,75 |
Curtain coaters are also available in economic version with head(s) fixed on conveyor bench, and in the version with double speed for automatic loading and unloading in varnishing lines.
CURTAIN COATERS DESIGNED FOR EVERY CUSTOMER
Useful width available from mm 300 up to mm 3600
Curtain coater mod. VFTE 1T-2N, one extractable head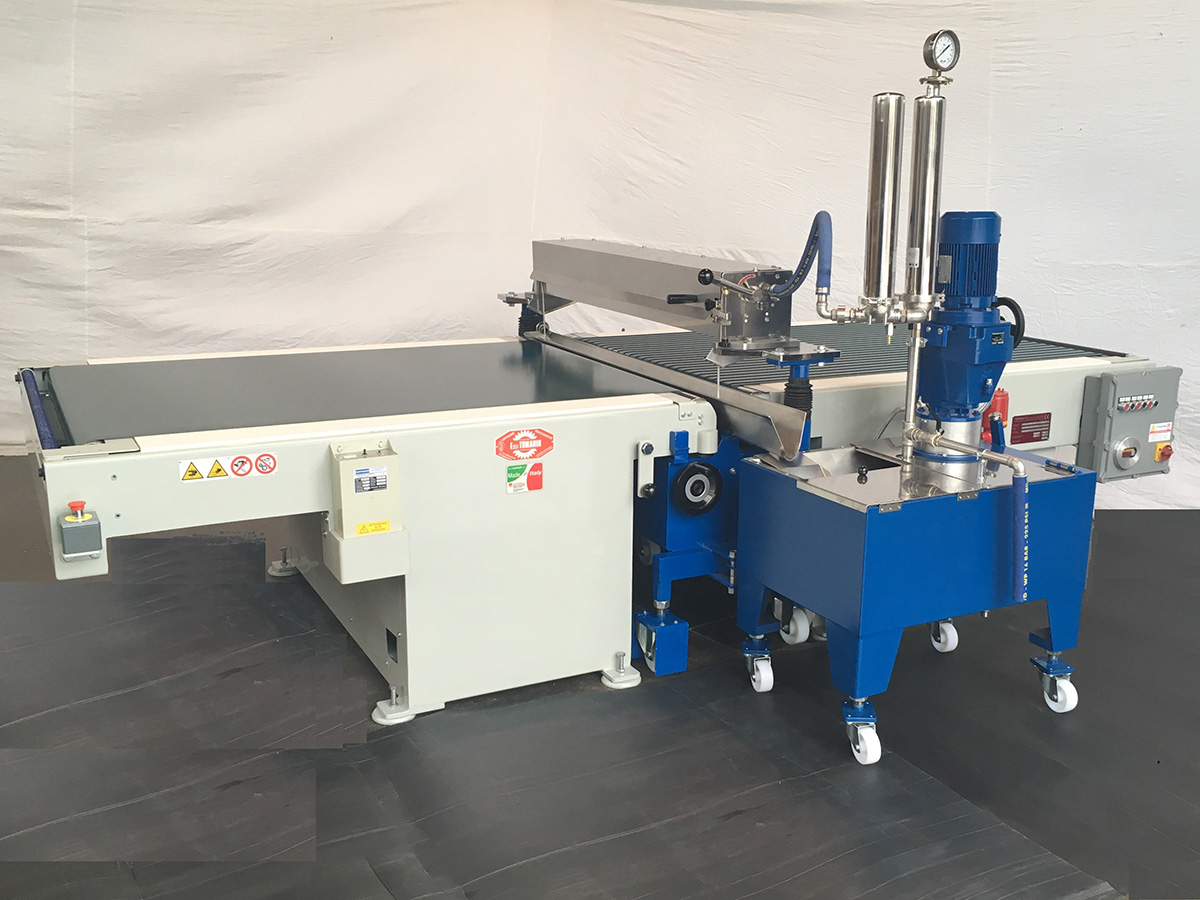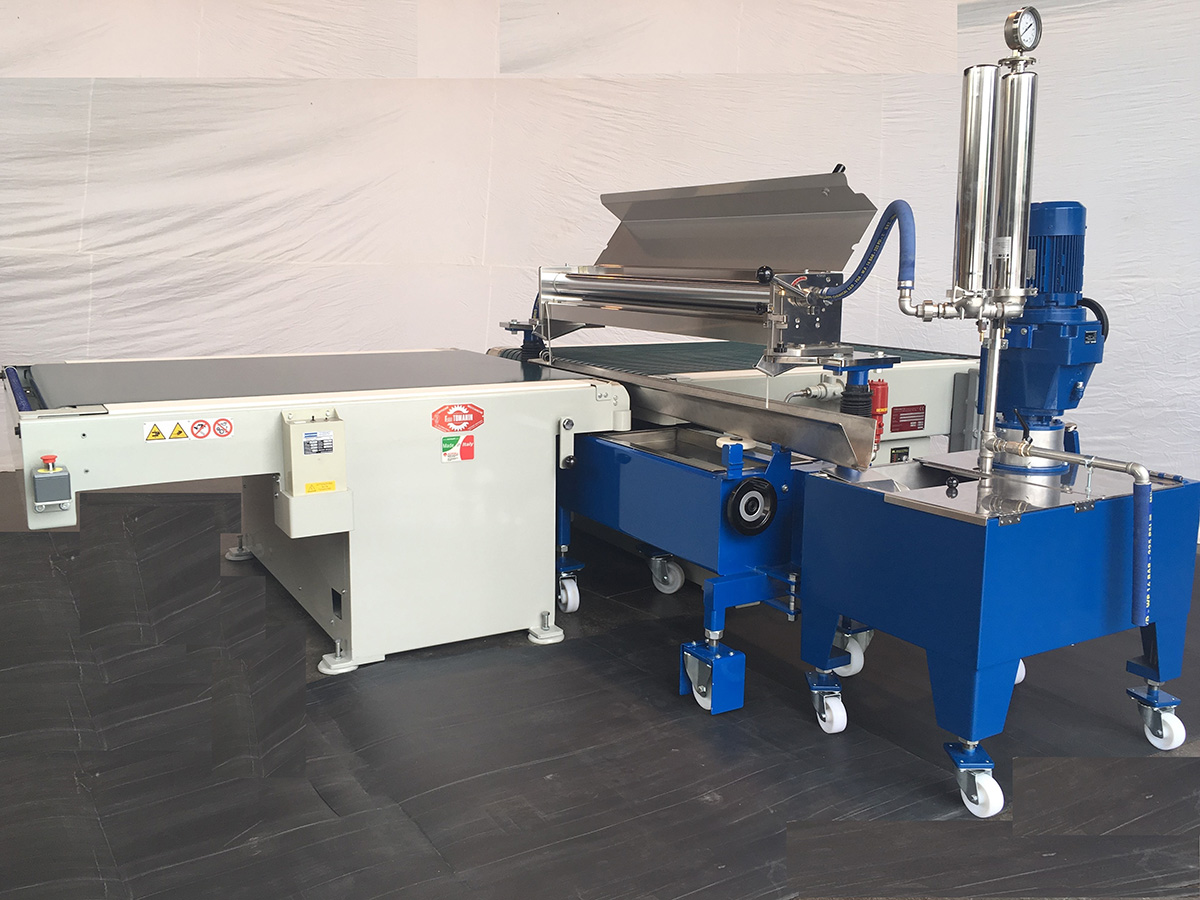 Extractable trolley
Velatrice mod. VFT 1T-2N, one fixed head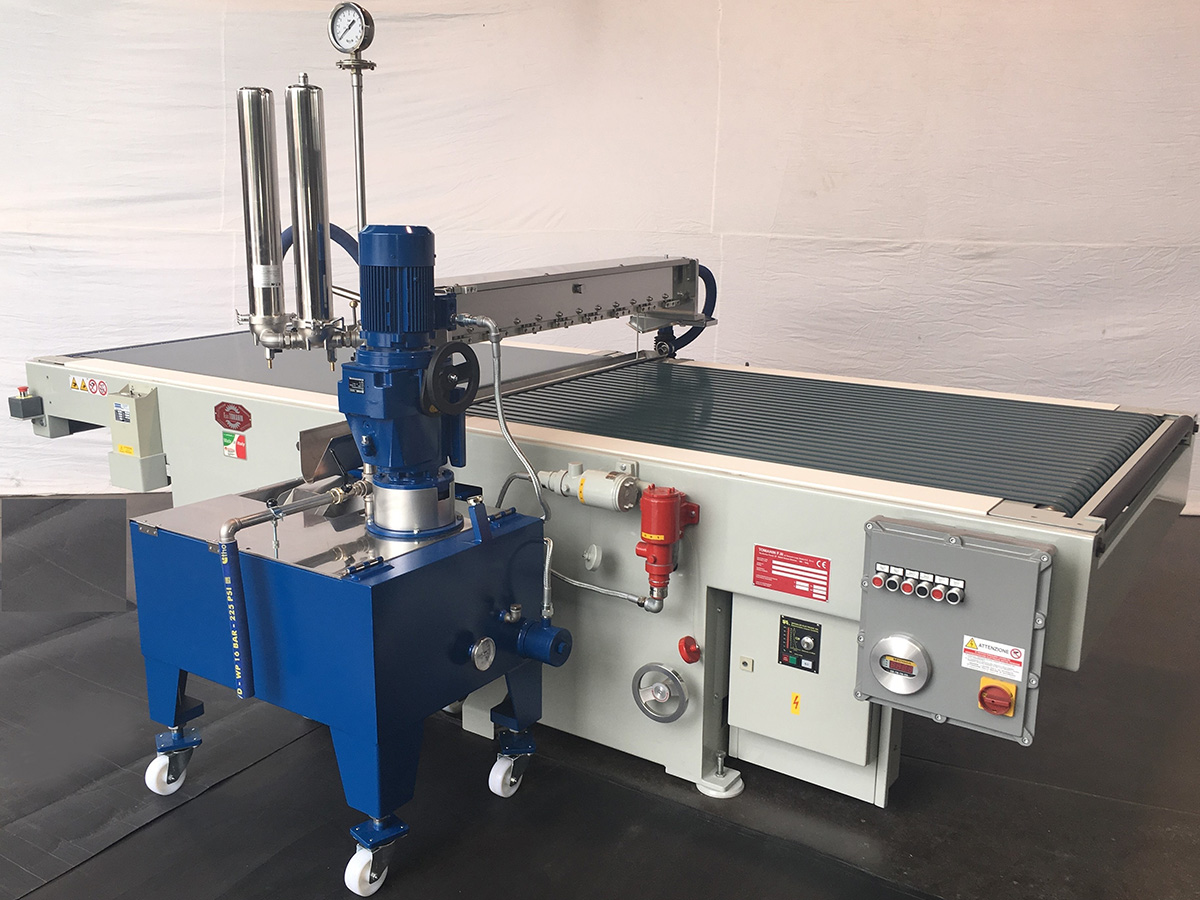 Testate di applicazioni disponibili
Head with free-fall double chute, adjustable by means of the roll for paint dosing.
It is fully chromium-plated and with curtain coating blade in stainless steel. Available also completely in stainless steel (for water base paints).

Universal-Standard head with 180° opening by handwheel incorporated into the reducer.
It is internally enameled, with curtain-coating blades in stainless steel. Curtain regulation by lever handwheel with centesimal indicator

Head type SP (suitable for UV water base or solvent base paint) with 180° opening by handwheel incorporated into the reducer. Totally built in stainless steel.

Curtain coaters for UV application
Velatrice mod. VTFE 1T-2N/t, with one extractable and interchangeable head (temp. with double speeds)
With technical features especially studied for UV application.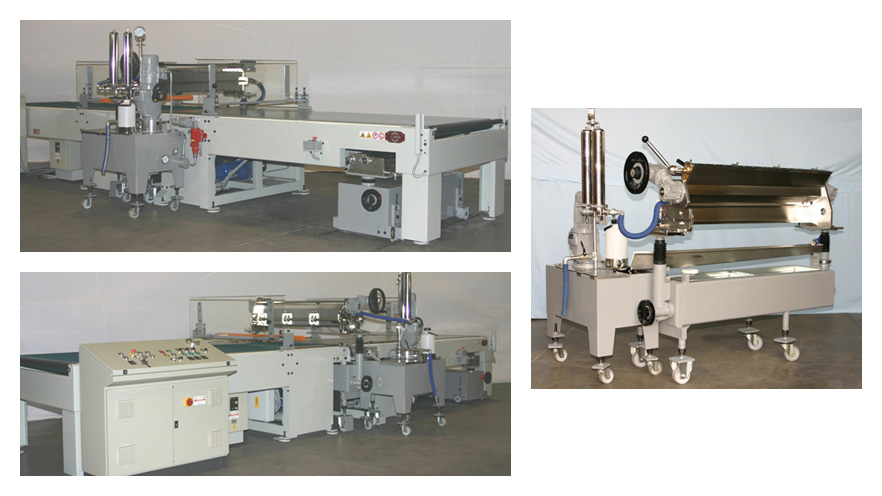 Extractable trolley group (to be inserted in transport bench) Complete with: head mod. SP (for UV), pump group VK/3, tank type G, no. 2 filter with double cartridge
Optional for curtain coater (suggested for UV varnishes)
Electrostatic device for curtain tilting. This device avoid paint contact with the edges of the panels; keeping them perfectly cleaned.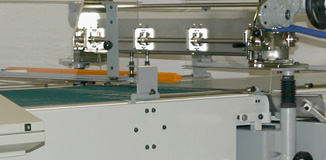 Device for belt in entrance humidification it remove electrostatic current from the pane.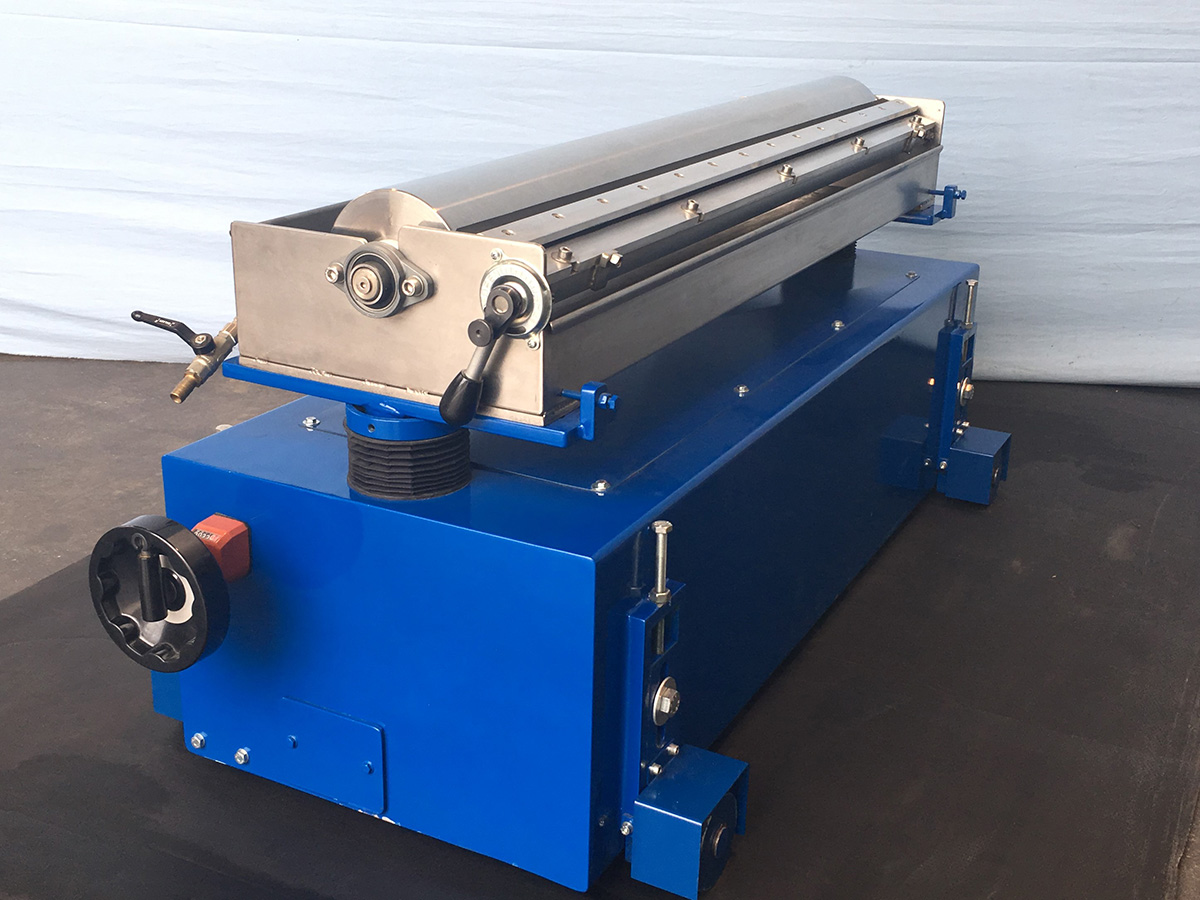 Curtain coater for special applications
Curtain coater in big dimensions for glass applications
Curtain coater with one extractable head, temporized with double speed
- Useful width mm 2600
- Overall length mm 7000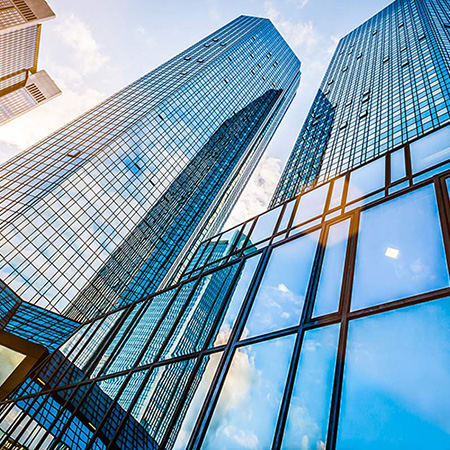 Curtain coater with one extractable head, temporized with double speed
- Useful width mm 3900
- Overall lenght mm 7000

Curtain coaters for application on solar panels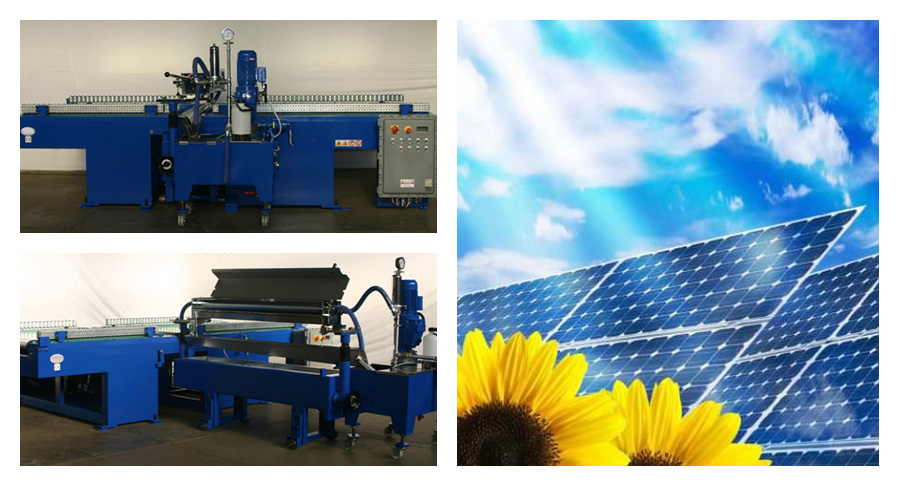 Curtain coaters for application of clear lac kon snowboards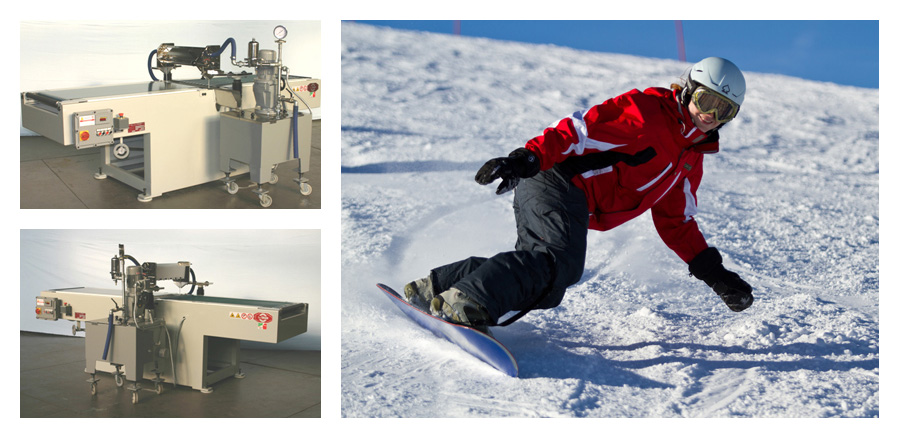 Curtain coaters for application of PTFE on alluminium disk (for pots)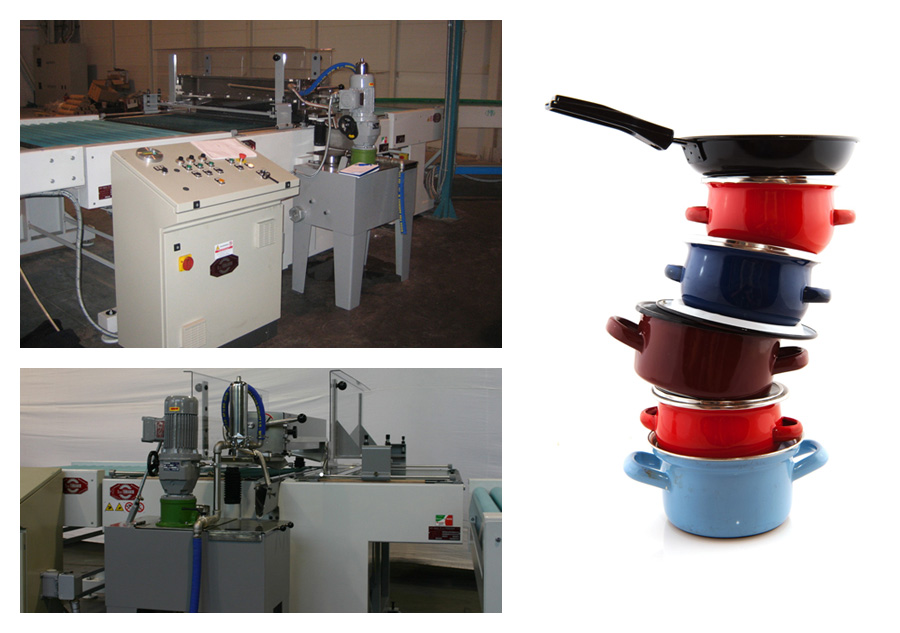 Curtain coasters for application on leather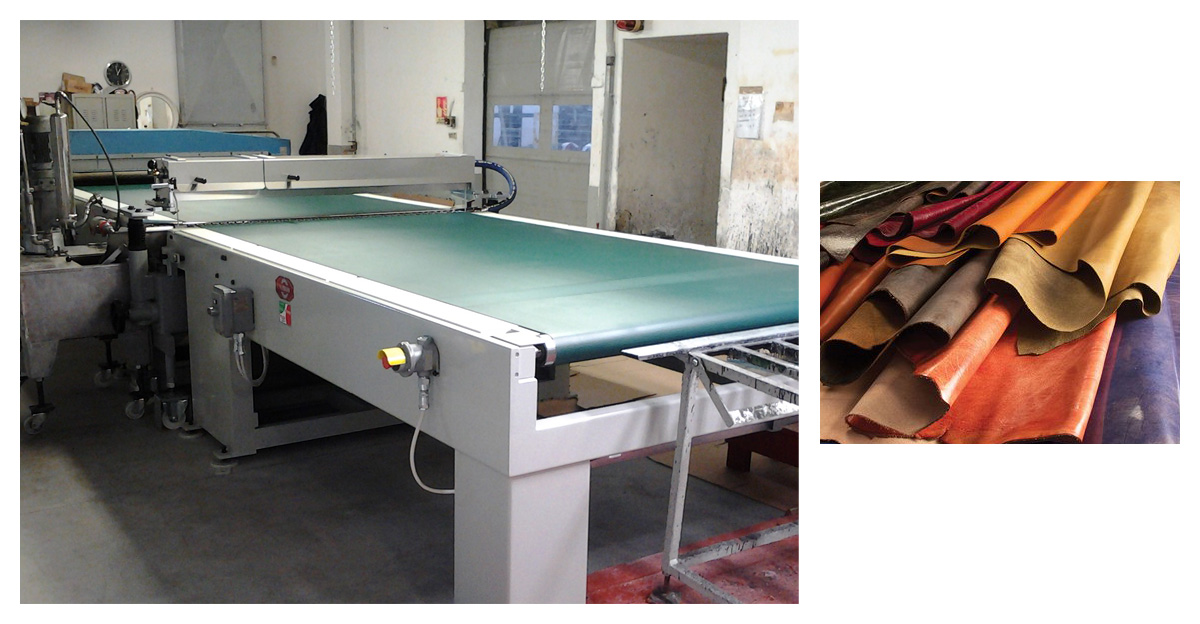 Curtain coaters for application on woden floor